Light is the 141st chapter of Hiro Mashima's Fairy Tail.
With the fight against Racer finished, Jura engages Hoteye. Meanwhile, Natsu reaches Erza and Wendy successfully heals her, just as Jellal activates Nirvana. As Natsu goes to find her former friend, Erza wakes up.
Summary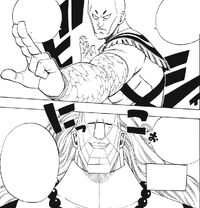 After the explosion caused by Racer's explosive Lacrima, Gray and Sherry are visibly shaken, both unwilling to believe that Lyon is dead. The two go to search for him, using Gray's ice-made stairs to climb down the cliff. Meanwhile, Jura engages Hoteye in battle. However, the Lamia Scale ace and Oración Seis Mage are evenly matched due to the nature of their Magic countering each other, Jura's hardening the earth while Hoteye's softens it.
Elsewhere, Natsu finally arrives at Hibiki, Lucy and Erza's location, carrying the unconscious figures of Wendy, Happy and Carla. Natsu begins to inquire about Hibiki's power but Hibiki cuts him short, and tells him that Wendy needs to save Erza. Natsu wakes Wendy up and asks her to heal Erza. Wendy begins to heal Erza, thinking about Jellal's actions.
Meanwhile, Cobra, unable to read Jellal's mind, is forced to follow him. Jellal stops in front of a giant tree, and begins to activate Nirvana. At the same time, Wendy finally finishes healing Erza, lightening the mood as the group begins to plan a counterattack. Suddenly, a pillar of black light appears in the middle of the forest and everyone realizes that Nirvana has finally been found. In the hideout, Midnight congratulates Brain and leaves, promising to eliminate the alliance before midnight.
Seeing the light, Natsu concludes that Jellal is the cause of its appearance and leaves to find him, unaware of the fact that a newly-reawakened Erza heard him.
Characters in Order of Appearance
Battles & Events
Magic, Spells, and Abilities used
Magic used
Spells used
Abilities used
Items used