Alta Face (アルタ・フェイス Aruta Feisu) was an underground monster and the source of the overflowing Magic Power in Elentear.[1][2]
Appearance
Alta Face is a gigantic monster with a face resembling the Magic Weapon of Earthland's Magic Council. It has an amorphous mass with dark spots and is rooted into the ground, its countless hands grow out from its back.[1]
Personality
History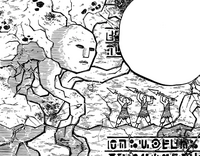 In ancient times the Alta Face was described as a monster of calamity in Elentear, that gave rise to Magic Power and amplified it without any limit. It used its Magic Power to destroy cities, erased lands, and swallow seas. Over many years, the Whiteout Village waged battle against it, eventually sealing it underground. Later on, the Hands started appearing all over Elentear and the villagers soon realized that it is a part of the Alta Face and decided to track and cut them off. After several centuries, it was revealed that the Hands harbored no ill intent and despite giving rise to Tsumeakas on occasions, it is still considered a rare occurrence.[3]
Due to the Moon Dragon God distorting the Magic Power in Elentear, the Alta Face became active again and aimed to destroy Elentear by filling it with an overabundant amount of Magic Power.[1]
Synopsis
100 Years Quest arc
Magic and Abilities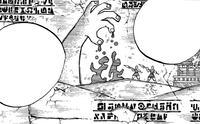 Hands (手 Te): Alta Face is able to produce many giant Hands that appear from the ocean[4] and the ground.[5] These Hands are harmless in nature unless they have some mysterious pattern on them making them be more aggressive than usual.[4] With Elentear's swelling Magic Power, the Hands becomes more hostile to the point of appearing and rampaging all over Elentear.[5] They are similarly structured to the Magic Council's Face, wherein they are all extending from the ground in various places but are connected to the main body underground.[6] Being hands, they are capable of grabbing things.[4]
Magic Power Generation: As the source of Magic Power, it is able to generate clusters of Magic Power with high concentration of Ethernano and unleashes it on its targets resulting in an explosion.[8]
Magic Power Amplification: It can also amplify Magic Power limitlessly.[9]
Battles & Events
References
↑

Fairy Tail: 100 Years Quest Manga: Chapter 89, Page 9

↑

Fairy Tail: 100 Years Quest Manga: Chapter 88, Page 3-4

↑

Fairy Tail: 100 Years Quest Manga: Chapter 87, Pages 6-9

↑

Fairy Tail: 100 Years Quest Manga: Chapter 77, Pages 5-6

↑

Fairy Tail: 100 Years Quest Manga: Chapter 88, Page 7-12

↑

Fairy Tail: 100 Years Quest Manga: Chapter 88, Page 3