Aldoron (アルドロン Arudoron), also known as The Wood Dragon God (木神竜 Mokushinryū), was one of the Five Dragon Gods that inhabit the continent of Guiltina.
Appearance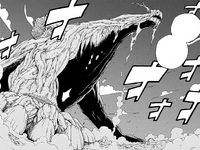 Aldoron is the biggest Dragon God in the world, his body in encompassed by all tree bark, with tree and other wood-like features adorning him. His face is mainly a large plank with small slits as his eyes and mouth, with a pair of wooden horns protruding from his head.[1] Originally, Aldoron is not as big as he is currently but his body was still large enough to bear a single town.[2] Currently, his shoulders, both hands, and back all have cities of Drasil upon them.[3] When awakened, his wooden horns is lit on fire.[4]
Personality
History
Aldoron existed as far back as the Dragon King Festival and, like the other Five Dragon Gods, fled to Guiltina in fear of Acnologia.[5] Aldoron decided to rest in Guiltina after he was injured in an encounter and battle with Acnologia[2] and since then he has been resting, storing power from absorbing the nutrients of the citizens of Drasil, knowing that once he would awaken again it would be to crush and claim the Guiltina continent as his own.[6]
Around 300 years ago Aldoron, decided to allow his humans to cultivate five cities upon his body,[7] which turned into the biggest city in the continent, Drasil. It was revealed that Aldoron, in order to contain and suppress his power, would link five orbs and five guardian deities tied to each orb for his body, keeping him still. Eventually, the role of the citizens upon his body were to heal him from the wounds he received centuries ago once he were to awaken.[6]
Synopsis
100 Years Quest arc
Magic and Abilities
Wood Dragon Slayer Magic (木の滅竜魔法 Ki no Metsuryū Mahō): Aldoron can utilize elemental Dragon Slayer Magic like all the other Five Dragon Gods, the element in case is wood. Aldoron can also use this Magic to grow multiple large trees from the ground and attack his airborne targets.[8]
Forest of Swords (剣戟森森 Kengeki Shinshin): Aldoron releases a mass multitude of extremely sharp thorns in all directions from his body to attack his targets.[9]
Telepathic (読心 Dokushin): According to Mercphobia, Aldoron has the ability to read the minds and thoughts of others.[10] Specifically, that it is utilized through the God Seed Wolfen.[11]
Life Force Absorption: Aldoron, a commander of life, has the ability to absorb life force from humans and turn them into nutrients, which steadily increase his power and size. These self-made nutrients, which could turn living people into trees, had the added responsibility of healing Aldoron once he awakens.[12]
God Seed Creation: Aldoron also has the ability to create God Seeds that dwells on the five orbs placed on Aldoron to contain his power and with each orb represented by a guardian deity that act as a protection to any threat to Aldoron.[13] The God Seeds will eventually revive after enough time passes if destroyed.[14]
Immense Durability: Aldoron's durability is strong enough for him to be left unharmed after taking multiple direct hits from Guiltina Magic Council MИP's Uranus cannons.[17] He is also able to take on Natsu's Fire Dragon King's Destruction Fist resulting in his stamina being deducted by only one point of damage from the attack. According to Wolfen, Aldoron's stamina are worth 100,000,000 points and Natsu would need to use the same attack 99,999,999 times in order to defeat the Dragon God.[18] Aldoron is also durable enough to able to take on multiple direct attacks from a gigantified Gajeel without getting any major physical damage.[19][20]
Immense Strength: Aldoron holds tremendous raw strength that by smashing the ground with just one hand, he can easily destroy massive areas around him including the town built in his hand.[21]
Immense Magic Power: As one of the Five Dragon Gods, Aldoron possesses an immense amount of Magic Power which is said to be equal to that of Acnologia.[22] Aldoron's Magic Power continued to grow over the years after absorbing a lot of nutrients from the people living in the towns on his body to the point that he could no longer control it resulting in him creating five orbs and its respective guardian deities in order to suppress it.[6] Due to Aldoron's immense Magic Power, he also gains immunity to Brandish's Command T Magic preventing her from changing his size.[23]
Battles & Events
Gajeel Redfox vs. Aldoron
References