Aldoron (アルドロン Arudoron), also known as The Wood Dragon God (木神竜 Mokushinryū), is one of the Five Dragon Gods that inhabit the continent of Guiltina.
Appearance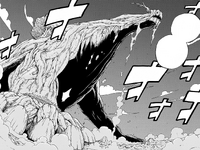 Aldoron is the biggest Dragon God in the world, his body in encompassed by all tree bark, with tree and other wood-like features adorning him. His face is mainly a large plank with small slits as his eyes and mouth, with another larger tree vine protruding from his head. His shoulders, both hands, and back all have cities of Draseel upon them.[1]
Personality
History
Aldoron existed as far back as the Dragon King Festival and, like the other Five Dragon Gods, fled to Guiltina in fear of Acnologia.[2] Around 300 years ago Aldoron, for reasons unknown, decided to allow humans cultivate five cities upon his body,[3] which turned into the biggest city in the continent, Draseel.
Synopsis
100 Years Quest arc
Magic & Abilities
Wood Dragon Slayer Magic: Aldoron can utilize elemental Dragon Slayer Magic like all the other Five Dragon Gods, the element in case is wood. Within his specific Magic, Aldoron has the ability to read the minds and thoughts of others through the power of nature.[4]
Transformation Magic (変身魔法 Henshin Mahō): Aldoron, like all the other Five Dragon Gods, is able to change appearances into that of a full-fledged human, though all Dragons possess the ability to transform to a certain extent.[5]
Immense Magic Power: As one of the Five Dragon Gods, Aldoron possesses an immense amount of Magic Power which is said to be equal to that of Acnologia.[6]
References
Community content is available under
CC-BY-SA
unless otherwise noted.